#10: Single Bar facemask. This is hardly a facemask and that is why it is number 10.  This little bar would not protect much of the face.  In 2004 these were banned but players were allowed to wear them if they had before the ban.  In 2007 Scott Player was the last player to ever wear this mask.
#9, Clear plastic facemask.  Otto Graham of the Cleveland Browns started to wear a facemask similar to the pictured here my Y.A. Tittle.  He figured a clear facemask would be easier to see through than steel bars.  He was right but it never really caught on.
#8 Bill Svoboda's double bar face mask.  This mask is similar to the single bar one at number 10 but went one step farther and added another bar.  While adding more protection than the single bar, it was way to easy to direct your head which ever way your opponent wanted.  No wonder this style never caught on.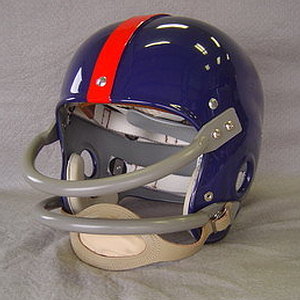 #7 Ladainian Tomlinson's Optimus prime face mask.  LT gives our first modern day face mask.  He brought the tinted visor into the lime light and that combined with his lighting fast feet and intimidating face mask made him a very scary adversary on Sunday.
#6 Peyton Hillis and the dogs.  Hillis fit right in at the dog house in Cleveland with his bulldog style facemask.  His facemask of the bulldog mimicked his attitude.  He was a big tough runner and would rather run over somebody than run around them.
#5 Harry Swayne and the Thunderdome.  Swayne was a very powerful and nasty lineman and when this guy lined up in from of you , you know he meant business.  This facemask helped him win three Super Bowls with two different teams.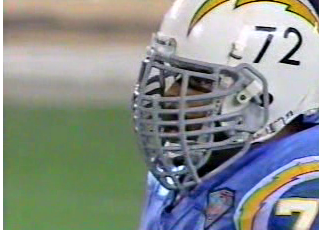 #4 Charlie Smith and the Eagles.  Charlie was forced to add extra bars on his helmet because of a facial injury.  None the less it was a very bizarre facemask.
#3 Justin Tuck facemask designer. Tuck debuted his helmet in 2011 because people kept grabbing his facemask and he wanted to create a custom facemask that would combat this.  Apparently this one was not good enough because the following year he would redesign it.
#3.5 Justin Tuck Fantasy Mask.  This was a mask created by a user at http://corner.bigblueinteractive.com Creator is unknown.  But very cool none the less.
#2 Justin Tuck redesigned.  He redesigned his mask from the previous year with more bars on the lower part.  He said he was still getting fingers between his facemask.
#1 John Williams.  John Williams created a very bizarre facemask.  It is actually made up of two separate masks made into one.  He then used athletic tape to tape them together.  His facemask is number one because of how ridiculous it looks.  There is a reason that it did not catch on.  There is no way he have very good vision out of it.  He kind of resembles a B-movie monster, with a very low budget.